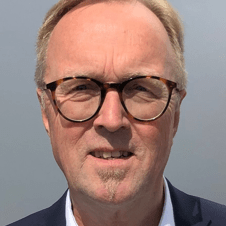 Peter Larsen
Head of In-Flight Service – In-flight Service
After more than 45 years in the company, I have gathered a truckload of experience. It has been a great experience through the ever-changing world of aviation and tourism.
I started as a tour guide for SPIES - working in London and Paris for a couple of years. Then I was flying in the airline Conair as a steward, cabin manager and instructor for quite a few years. In 1994 I got my first office job after Scanair and Conair merged to become Premiair. 
Since then I have worked with cabin crew management, uniforms, product mangement of everything happening behind the flight deck door. The past many years I have had the pleasure to be responsible for all the food we serve onboard our aircrafts. My mantra still is to prove that airline food can be good food - and we are actually doing pretty well if I may say so:)
For almost four years I headed the Catering Dept. of Thomas Cook Group Airlines with the responsibility of serving 18.000.000 meals a year. These four years were tough, but I learned a lot I wouldn't wish to be without... 
In Sunclass Airlines we have the best base for doing a great job withim NLTG working closely with our tour operators throughout Scandinavia. All the time developing and meeting and solving new challenges. What a privilege!!!